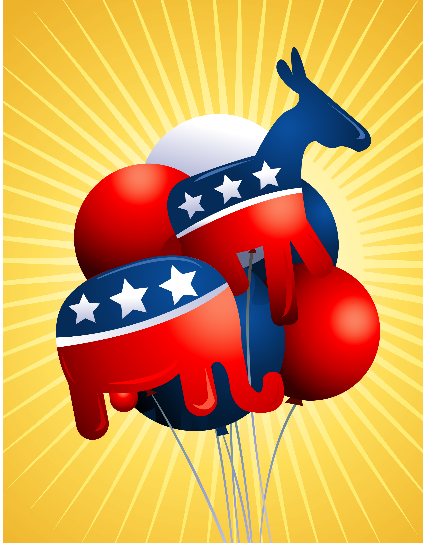 Unless you're in DC like we are, it's probably bad form to talk politics at work. But a new survey by Accountemps says that 53% of workers feel as if the level of office politics has increased compared to five years ago. Only 12% reported a decline.
According to 54% of respondents, it's wise to be aware of what's going on without getting involved. Mmmm hmmm ... we really believe that.
But what we do enjoy are the five types of "common political players" and Accountemps' suggestiosn for how best to interact.
The Pundit. This person loves to talk office politics and rarely tires of speculating about what's really happening. While the Pundit may provide useful insights on occasion, it's best not to share too much information with this individual, as it could fuel the rumor mill.
The Lobbyist. The Lobbyist is a strong advocate for his or her projects and is adept at gaining buy-in for ideas. While some Lobbyists are effective at building cross-departmental support, others may be unreceptive to outside points of view. When interacting with this person, be aware of the agenda being pushed, and be willing to stand up for your ideas.
The Covert Operator. The Covert Operator often uses manipulation rather than hard work to get ahead. While this type of person can be charming, keep your guard up when dealing with anyone who criticizes a coworker or takes credit for other people's projects.
The Activist. This professional likes to facilitate change within an organization and is quick to take on causes, even those that don't necessarily advance the company's big-picture goals. While the Activist can be a valuable advocate, carefully evaluate the merit of the issues when asked for support.
The Advisor. This person often is closely aligned with a company's leadership and serves as their "eyes and ears." For example, the Advisor could be a senior aide or an executive assistant. Because the Advisor wields significant behind-the-scenes influence, develop a good rapport with him or her.

Register or login for access to this item and much more
All Employee Benefit News becomes archived within a week of it being published
Community members receive:
All recent and archived articles
Conference offers and updates
A full menu of enewsletter options
Web seminars, white papers, ebooks
Already have an account? Log In
Don't have an account? Register for Free Unlimited Access